projects / sources / data / networks / people…

Capra Grigia: The grey color of this goat is an advantage in the rocky Alps, because it protects young animals from predators, see: https://www.prospecierara.ch, photo Julia Patzen.

From data to knowledge: nodegoat projects at the University of Bern give insights into their digital implementation
Friday, November 27, 2020, 9-17.
Participation:  Zoom, Live Stream on YouTube. Transmission from the University of Bern (Uni Tobler), participants are welcome from all over the globe. The conference will be held mostly in German, as we will present projects of the University of Bern, but we will provide subtitle in English (in Zoom). The nodegoat Day 2021 will then be more internationally oriented and will be held in English.
Programm
Tagungsbericht: https://www.infoclio.ch/de/tagungsbericht-nodegoat-day-2020
Von Daten zu Informationen und Wissen: nodegoat Projekte der Universität Bern geben Einblicke in ihre digitale Umsetzung
Freitag, 27. November 9-17 Uhr via Zoom mit Live-Stream auf YouTube
9.00 Einführung durch Kaspar Gubler (Universität Bern, Historisches Institut): nodegoat als kollaborative Plattform für internationale Projekte. Das Beispiel Repertorium Academicum (REPAC).
9.30 Stefanie Mahrer (Universität Bern, Historisches Institut): Transnationale Wissenschaft. Die Schweiz und akademische Zwangsmigranten 1933 bis 1950.
10.00 Franziska Zaugg / Mevlane Sejdiji (Universität Bern, Historisches Institut): Eine "longue durée" der Gewalt? Kriegsversehrte Gesellschaften in Südosteuropa.
10.30 Alexandra Portmann, Anna Barmettler, Dominik Kilchmann (Universität Bern, Institut für Theaterwissenschaften): Festivals und institutionelle Veränderungen. Perspektiven auf transnationale Arbeitsweisen im Gegenwartstheater.
11.00 Diskussion / Fragen / Ideenaustausch
12.00-13.00 Mittagspause
13.00 Elie Jolliet (Universität Bern, Institut für Musikwissenschaft): Berner Gesangbücher, 1603 bis 1853. Eine digitale Analyse.
13.30 Corina Liebi (Universität Bern, Historisches Institut): Die Bamberger Kammeramtsrechnung von 1487. Digitale Zugänge und Auswertungsmöglichkeiten spätmittelalterlicher Rechnungsbücher.
14.00 Sebastian Borkowski (Universität Bern, Institut für Archäologische Wissenschaften): RIMES (Die Flüsse des Zweistromlandes).
14.30 Diskussion / Fragen / Ideenaustausch
15.00 Kaffeepause
15.30 Kaspar Gubler (Universität Bern, Historisches Institut): SNF Spark Projekt 'Dynamic Data Ingestion' for server-side data harmonisation: erste Ergebnisse und Ausblick.
16.00 Pim van Bree / Geert Kessels (The Hague, LAB1100): nodegoat on the globe. Overview of nodegoat projects running at other institutes and insights into new and planned features of nodegoat.
16.30 Fazit und Ausblick auf den nodegoat Day 2021
17.00 Apéro virtuel
Not yet familiar with nodegoat? Then have a look at the Video Tutorials.
Background of the nodegoat Day: As part of the university's digitization strategy, the Historical Institute of the University of Bern has launched as a pilot project a virtual research environment (platform) for the Faculty of Humanities. The project started in April 2020 and had in September 2020 already 25 projects with 60 users on the level from bachelor to habilitation and SNSF research project. The projects come from different faculties: History (Middle Ages, Early Modern and Modern period), Archaeology, Linguistics, Musicology (Early Modern period) and Theater Studies. On nodegoat Day the projects will introduce themselves and give insights into the great variety of topics, questions, technical implementations, such as (algorithmic) visualizations on maps or in networks and comparative representations of time series.
Here are some short titles of projects, which work with nodegoat GO @unibern:
spark – dynamic data ingestion (SNSF Project)
Berner Gesangbücher, 1603 bis 1853
Sozialgeschichte des Reitens
Krisen, Krieg und Konfrontation (Übung Historisches Seminar)
Berndeutsch im Berner Mittelland
Hip-Hop Transcultural
Die Erfahrung des Aktivdienstes von Deutschschweizer Offizieren während des Ersten Weltkrieges
Dezentralisierte soziale Netzwerke im Alpenraum
Eine "longue durée" der Gewalt? Kriegsversehrte Gesellschaften in Südosteuropa
Rechnungsbücher Fürstbistum Bamberg
Settlement organisation and economic strategies in the Bronze Age Southern Balkans
Festivals und instiutionelle Veränderungen. Perspektiven auf transnationale Arbeitsweisen im Gegenwartstheater
«Das Urfehdewesen im Kanton Bern vom 14. bis 16. Jahrhundert» (MA-Arbeit)
RIMES (Die Flüsse des Zweistromlandes)
hallerNet – Netzwerke des Wissens im Europa des 18. Jahrhunderts
Transnationaler Konkursvergleich
Sozialprofile und Vernetzung der Ökonomischen Aufklärung
Ernst Adalbert von Harrach: Netzwerke im Rom der Frühen Neuzeit
Swiss German Dialects Across Time and Space (www.sdats.ch)
Testprojekt Uni Bibliothek Bern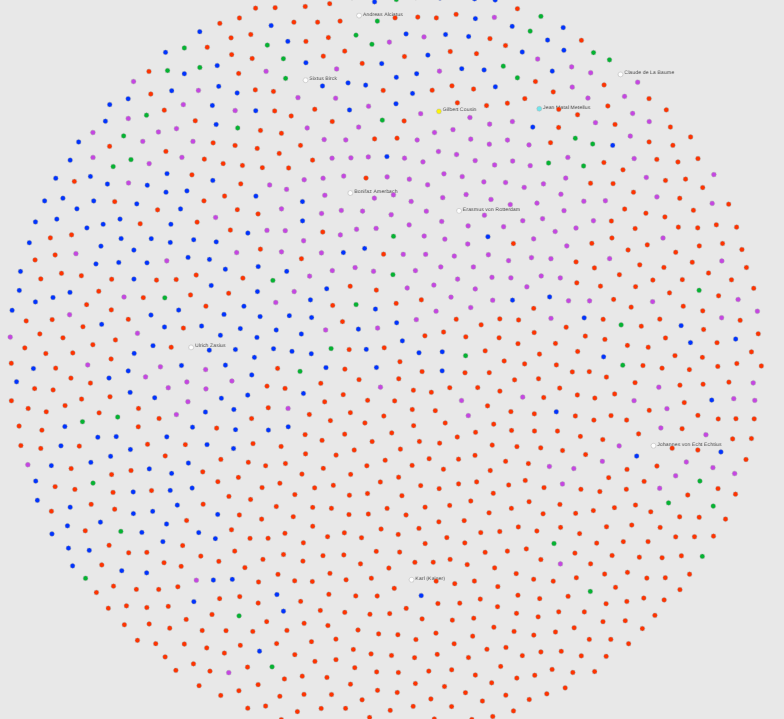 Networks of the jurists Gilbert Cousin (1506-1572) and Jean Matal (1517-1597)
This scenario interactive: https://database.rag-online.org/viewer.p/9/25/scenario/427/soc